Question 40



Difficulty
Medium
Skippable?
No
Bomb?
No
Reference
N/A
Safe Question?
No
Glove location
N/A
Freebie location
N/A
Question 40 of The Never-Ending Book presents you with the word "Chemistry!" and answer options "O", "H", "N" and "!". These letters appear to represent oxygen, hydrogen and nitrogen.
After messing around with the setup, you'll notice that the answer is not a single answer option. Rather, pressing "O" will just put an O on the screen and leave you on the question. The answer turns out to be a sequence of the options.
You're supposed to press "O", "H", "N", "O", "!" in that order, to provide a reaction to the word "Chemistry!" Then the words will flash and eventually this question will go away and the next question will take over - watch out, it's going to have a bomb!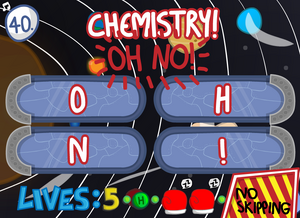 | | |
| --- | --- |
| | You cannot skip this question. |
One of the loading screen hints says "Chemistry! Oh no!"